Call X-Treme Temp Heating and Cooling, LLC today for help with ductwork concerns.
Issues with ductwork can end up affecting your system as a whole. X-Treme Temp Heating and Cooling, LLC specializes in ductwork services, from duct cleaning and duct repair to complete replacement. Call X-Treme today at (203) 815-6851 for professional and reliable ductwork service.
X-TREME TEMP Heating & Cooling, LLC
Your Comfort Matters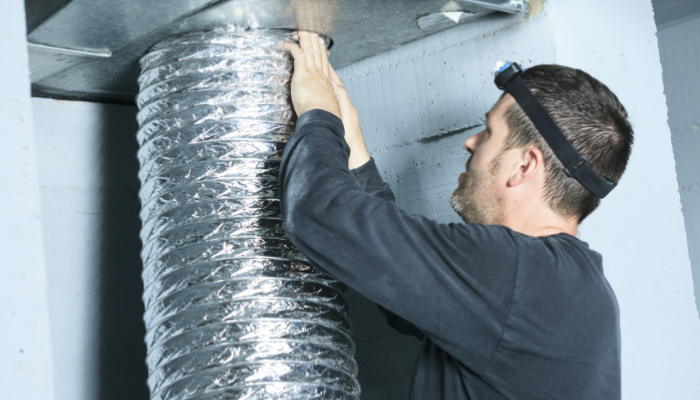 SOME COMMON DUCTWORK CONCERNS
Though sturdy and made of sheet metal, ducts can still have issues that impact how well the HVAC system works. Some typical problems homeowners and businesses have with ductwork include:
Dirty or corroded ducts: Overtime, the ducts in your system gather dust and debris, becoming dirty and possibly corroded which can greatly hinder indoor air quality.
Cracked ducts: Any leaks in the system allow air to escape, resulting in wasted energy.
Collapsed or loose ducts: Any metal sheeting that has collapsed also lets air escape or possibly blocks air flow.
Problem with layout of ducts: If the building has an inefficient ductwork layout, the HVAC system will be rendered inefficient.
Clogged ducts: Any blockages in the ductwork obstruct airflow.
THE SOLUTION TO ANY DUCTWORK PROBLEM
As experts in all things HVAC, we specialize in ductwork as well. We provide services to inspect and maintain your ducts, making sure there are no clogs, leaks, or corrosion. We also clean your ducts to remove any collected dust particles and debris that might be present.
We also provide expert service in the event your ductwork is damaged, repair any dented or collapsed ducts, and seal any leaks or cracks.
If cleaning and repair are not enough, we also provide total ductwork replacement services. Our certified HVAC technicians know how to tailor each unique building layout to ensure maximum efficiency of your ductwork. To schedule an appointment with a technician, call us today at (203) 815-6851.