Wallingford Air Conditioning Repair Services
When your residential air conditioning goes out, you want it to be fixed accurately and in a timely manner. At X-treme Temp Heating and Cooling, we are proud to be the Wallingford area's go-to choice for air conditioner repair service. Our customers trust us to provide them with the best quality of care as quickly as possible. After all, with a big investment such as an HVAC system, you'll want someone you can trust to repair and fix it the right way.
X-TREME TEMP Heating & Cooling, LLC
Your Comfort Matters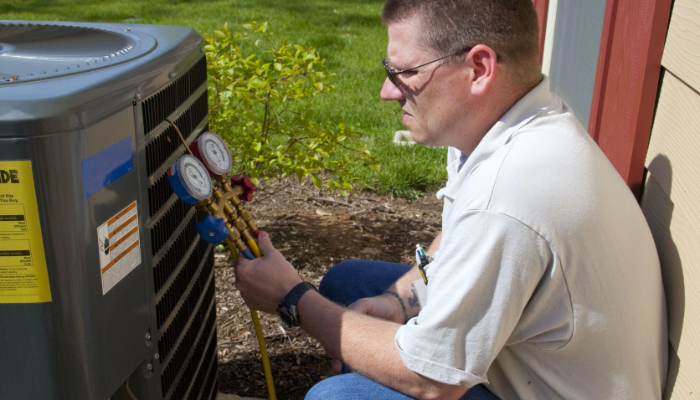 How often should residential AC units be serviced?
Residential air conditioners should ideally be maintained once a year. Regular maintenance helps to ensure the system's best possible performance, efficiency, and lifespan. A competent HVAC technician can clean and examine components, check refrigerant levels, verify electrical connections, and fix minor concerns during a service session. Timely maintenance enhances indoor comfort, lowers the chance of unexpected breakdowns, and preserves energy efficiency. If you have a heating and cooling system in the same unit, it is best to schedule maintenance for the cooling system in the spring and the heating system in the fall.
How do I know if my AC needs Freon?
Sometimes a drop in cooling efficiency, where you may feel warm air flowing from the vents, will signal the need for more refrigerant. Another symptom of insufficient refrigerant is the freezing of evaporator coils, which can reduce cooling capacity. A leak within the system may also be indicated by the sound of hissing near the refrigerant lines. Additionally, prolonged AC use without providing appropriate cooling may result in increased energy costs due to decreased efficiency. A qualified HVAC specialist must be called in if there is any reason to believe there may be a refrigerant issue. 
How many years does an AC unit last?
Various elements, including an AC unit's quality, maintenance, use, and regional climate, might affect how long it lasts. A well-maintained central air conditioning system can typically last between 10 and 15 years. However, some devices can even last more than 15 years with regular maintenance. Your AC unit's lifespan can be increased with routine maintenance, which includes replacing air filters, cleaning coils, and taking care of minor concerns right away. It could be time to think about replacing your AC if it is getting close to the end of its useful life and is breaking down more frequently or operating less efficiently.
COMMON AIR CONDITIONING PARTS THAT NEED REPAIR
Air conditioning systems work hard and have lots of moving parts that can break. The most routine air conditioning repairs include:
Breakers or Fuses - They protect the unit from overheating.
Capacitors - These can burn out, inhibiting the motors from working.
Compressor - It runs energy to the refrigerant, allowing the coils to carry out heat exchange. Too much or too little refrigerant can cause this part to break.
Evaporator Coils - The coils can become corroded, hindering them from sending cold air into the house.
Condenser Coils - Because they are outside, they can get dirty and fail to work properly. In some cases, a professional may have to clean them with a chemical solution.
Contactor - These parts connect the motors and compressor electronically. If they are worn that connection is broken.
LOCAL AIR CONDITIONER REPAIRS
Our family and veteran-owned company has been specializing in air conditioning services for years. Our diagnostic technicians are highly trained to professionally handle any repair that comes their way, providing fast, affordable, and trustworthy service.
All inspections performed will include a detailed assessment and written estimate, keeping you well informed of any work that needs to be done and an upfront cost evaluation so that there aren't any surprises. We are dedicated to the comfort of our customers, and not having air conditioning on a hot summer day just won't do.
Contact X-treme Temp Heating & Cooling For All Your AC Repair Needs
Why should you choose X-Treme over another heating and cooling company? Based on our core values, you will receive the best experience for your heating and cooling needs! At X-Treme Temp Heating & Cooling, LLC, your comfort matters, as we are committed to giving our customers the BEST quality of care.
Call us today at (203) 815-6851 for any air conditioning repair problem you might have. We also can recommend new air conditioning replacement products when that time comes.